Introducing MARC, the Mobile Marker Board With Handle.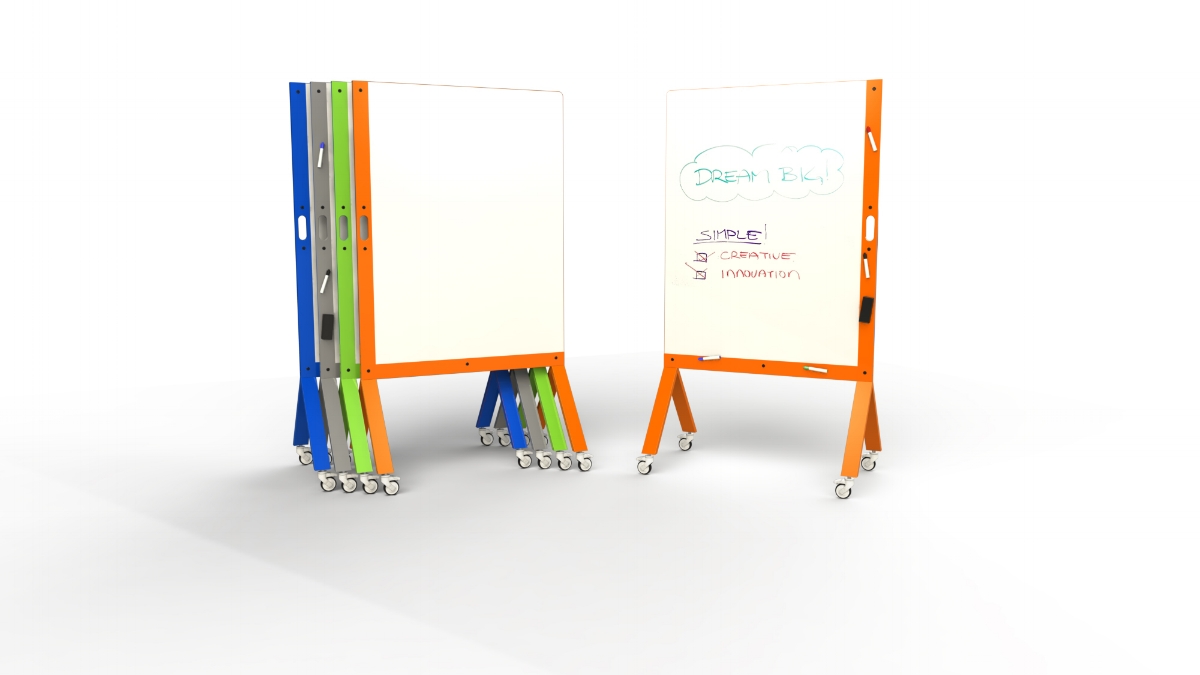 HANDstand
It's a handy desktop accessory. HANDstand for iPads, iPhones and any other Tablet up to 10". Works in landscape or portrait. Color available in white, orange, red, green and blue.
One of the defining characteristics of the EYHOV Desk System is the multi-purpose Accessory Rail. The rail configuration allows for customization and tailoring to suit the task, as well as easy reconfiguration when necessary.
The Accessory Rail sets a new standard for modular functionality.
Access panels to drop power and cables

Mount Privacy Panels

Arm's length power and data connections

Integrated Task Light by Pablo Designs

Add Letter and File Boxes
Designed by Peter Stathis for Pablo Designs, the Link Light is a fully articulated task lamp using energy efficient LED technology. Link Light lasts for 50K hours or 25 years of dailly use and uses only 7W of power.
Lockable personal storage box made from 14 gauge recycled steel with a scratch and dirt resistant finish.
Shelving module drops onto side partitions. Made from 14 gauge recycled steel and powder coated in a high durability finish.
Letter Box and File Organizer accessories mount to the Accessory Rail. Made from steel and powder coated. Resistant to stains and scratches.
S1 STASH Drawer
Computer Charging Drawer Unit
Colorful privacy panels and side partitions define the workspace and block sight-lines. Perfect for collaborative environments, EYHOV screens are easily removable effectively creating collaborative space between desks.
Features include four color options, built-in bag hook, and drop-on shelving modules.
Power and Cable Management
Any organization today runs on power and data. Work spaces should also be uncluttered, easy to clean, and simple to use. Power and cable management features make the EYHOV Desk System an ideal solution.
Access panels allow power and data cables to be neatly kept out of sight. Under the desk, the cable tray keeps wires off the floor.
Mounted desktop power units for quick, arm's length plug-and-play charging without crawling under the desk.
Daisy-chained line brings power to outlet modules that connects to lighting, desktop power, and other equipment.